Are you ready for the new school year to begin? Ring in the start of school by throwing a back-to-school bash! If you want to throw the ultimate party, we have some awesome back-to-school bash ideas for themes and activities. You can even learn a few tips to make your party absolutely unforgettable!
What Is a Back-to-School Bash?
Well, a back-to-school bash is just that: a party! This bash is a way for parents, teachers, and kids to prepare for the coming school year and connect with one another. A back-to-school bash can be held at a school by a school district, the PTO, or the teaching committee as a meet and greet for parents, kids, and teachers.
But a back-to-school bash can be thrown by parents too. A family-oriented back-to-school bash helps kids connect with family and friends, get excited about the upcoming school year, and eases their anxiety about starting school again.
Back-to-School Bash Theme Ideas
Are you planning a back-to-school bash? The first place to start is to think about a theme for your party. You can find a lot of fun themes to get kids excited about going to school.
Picnic or Cookout
One of the easiest themes out there is a simple picnic. Have families bring a dish to share and a blanket to sit on. Since each family brings a dish, you get a lot of variety on the menu. You also don't need much for decorations, since you are outside.
Tailgate Party
Pull out the grill and get ready to have a fun tailgate party. Have your guests wear their favorite school apparel to celebrate their school and show their pride. You can decorate with items that honor your school mascot as well as with sports-themed decor. You might even serve the food and goodie bags from the back of a truck or van.
Ice Cream Social
Who doesn't love ice cream? Grab all the flavors and have a fun ice cream social with your kiddos. Everything at the party can have a sweet ice cream theme. It's a chill way to connect. You can even have it at a park or playground so kids can run off their sugar high.
Carnival
Kids love carnivals. Set up different booths and simple games for kids to play and win. You can decorate with masks, balloons, and clowns. You might also have balloon animals and face painting available. Serve carnival-themed food like cotton candy and hot dogs.
Get Rolling With Food Trucks
Ring in the new school year with a food truck party. Invite a few food trucks to a school or park. Have parents, students, and teachers get a meal while meeting with each other. There are no decorations needed, and dinner is ready!
Breakfast Bar
Sharing breakfast is a great way to meet and greet new parents. Create a breakfast bar at home or in the classroom. Center the party around the food by having a pancake or waffle bar. Everyone can enjoy the food and socialize.
Superhero
For elementary children, a fun superhero-themed party can be a soaring success! Have everyone dress up as their favorite superhero, and make all the decorations and food superhero-themed. You can even have a costume contest.
Fancy Affair
Why not have a black-tie affair? Allow kids and parents to get a little fancy at their back-to-school bash. Pull out all the stops with fancy table settings and PB&J sandwiches cut into shapes. You can even serve punch out of plastic goblets. Play music so parents and kids can dance the day away.
Spa Party
School can be stressful. Allow your kiddos to relax and chill with a spa party. From makeovers to mani-pedis, you can have a little bit of everything. You can eat lots of finger foods and snacks too.
School Supplies
Every kid needs a few school supplies. Make that the theme of your party. Decorate with notebooks, pencils, and markers. You can even play fun school-themed games. Kids can leave with the decorations and be ready for the new school year.
Book Characters
Keep your back-to-school bash educational by having children and parents dress up as their favorite literary characters. They can even have a whole family come as characters from a specific book. You can bet you'll see a lot of Harry Potters and princesses. at this event!
Sayonara Summer
Since back to school means an end to summer fun, why not say goodbye in the best way possible! Have kids come in their best swimwear, set up a slip-and-slide, bring out the water balloons, and have a splashing good time in the sun!
Color Celebration
For a color party, have your kids dress head to toe in their favorite color. Then, bring along a snack or drink to share that matches their ensemble. When everyone arrives you will have a rainbow of colors.
Then, for any activities that involve teams, you just partner everyone off with someone in a matching color. This is one of our favorite back-to-school bash ideas because it is a great way for kids to make new friends for the new year!
Back-to-School Bash Activity Ideas
Whether you choose to have a theme or not is your call. But games are a must at any party. Try out these back-to-school game ideas to make the fun last all day long!
Scavenger Hunt
Scavenger hunts are fun for kids of all ages. Split them into teams and have them find the school supplies hidden around the party. Not only will they be equipped for their first day, but they will also have a great time.
Relay Races
Most bashes are filled with lots of snacks. Have the kids and parents run off all their energy by creating fun relay races. Make teams up of both kids and adults. Mark off a course and have them run for it.
Time Capsule
Kids grow up so fast. Have the kiddos at the party write a letter to their future selves at the end of the school year. What do they think their future self will learn and be like? Put the letters in a time capsule and have the kids open them on the last day of school.
Bookmarks
Who doesn't need a good bookmark? Have a bookmark creation station. You can either print off a bunch of different bookmark designs and have kids color them, or give them blank bookmarks to design. They will love getting creative, and they'll have a great bookmark for the coming year.
Book Covers
Most teachers have kiddos create covers for their books to keep them from getting damaged. Give kids a paper bag and let them decorate book covers to take with them to school.
Comedy Show
Good laughs are a great way to break the ice and make new friends. Have your kiddos put on a back-to-school bash comedy show and share their favorite back-to-school jokes! This is bound to bring some giggles for the kids and adults alike!
School Supply Drive
Schools are always in need of school supplies. From tissues to markers, you can have each family bring something to donate to the school for the coming year. Create a giant cardboard bus and have your guests fill it with supplies.
Bingo
School supply bingo is a fun game that doesn't need any prep work. Create a list of different school supplies and a blank bingo board. Hand out the bingo boards to your guests and have them fill in the squares with different school supplies. Cut up the list and put it into a hat. Pull them out until you get bingos.
Photo Booth
Give kids some paper and have them make fun props for a photo booth. Pull out your phone and take pictures they can use to decorate their school supplies for the coming school year.
Helpful Hack
For the working parents who don't have time for a first day of school photo op, make these fun back-to-school bash photos be your images for your first day of school social posts! Don't forget a clever or cute back-to-school caption either!
Handprint Art
Put out some paint and paper. Allow kids to use their hands to create some fun art pieces. These can serve as great classroom decor for the upcoming school year!
Fashion Show
Most kids get new clothes for school. Have them bring a few of their favorite outfits and put on a fashion show. Parents and teachers can cheer for the kids as they strut their stuff.
Giant Games
Kids and adults all love a good challenge - and bigger is always better! Have parents pool together their best oversized outdoor games. These can include cornhole, giant Jenga, Yardzee, and Giant Four! Then, let the competiton begin.
Morning Relay
Getting into a morning routine for the new school year can be challenging. Make it a little easier with this fun game. Put a pile of different adult clothes at one end (shirts, shoes, pants, ties, etc.). Divide the kids into groups. Have them race down to the pile and put on a piece of clothing. The first team to put on all the clothes wins.
Book Swap
Have each kid bring a favorite book to the party. The kids can then swap books. They might just find a new favorite.
Cupcake Decorating Contest
Provide unfrosted, undecorated cupcakes as well as some frosting, sprinkles, and cupcake decorations. Let kids decorate their cupcakes and vote on the best one.
Tips for Throwing an Unforgettable Back-to-School Bash
A back-to-school bash can be a fun way to ring in the new school year. It can also get kids excited about their new classroom. Try out a few tips to make the most of your event.
Let Kids Help With Planning
From the theme to the decorations, kids have some fantastic ideas. Inviting them to get in on the planning can help build the excitement for the party. They can also help you decide on fun foods everyone will enjoy. Plus, they are taking some of the work off your plate.
Serve Fun Snacks
Healthy and delicious back-to-school snacks are a must at a back-to-school bash. Make sure they stick with your theme. For example, you might create pretzel wands for a book character theme. You could also have football cupcakes for a tailgate party.
Make Crafts Fun and Functional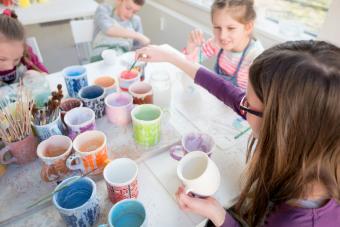 Back-to-school crafts are functional and fun. You might have them create a pencil holder out of old coffee cans or create a book cover using paper grocery bags or butcher paper. This way, they can use the craft they create for school.
Hand Out Helpful Party Favors
Think about school supplies when it comes to giving out party favors. You might fill their bags with pencils, erasers, notebooks, etc. You can also have school supplies as prizes for winning the games and activities. You are getting kids prepared for school while also having fun.
Back-to-School Event Ideas to Try
Going back to school doesn't have to be a dreaded time. Make it fun by having a back-to-school bash. From festive games and prizes to food, it's an excellent way for kids and parents to connect with each other.